With a howling and unholy mix of punk country blues, Jeffrey Lee Pierce and The Gun Club exploded upon the L.A. club scene in the early '80s.
​
They recorded their debut album, 1981's Fire of Love, for the local Slash/Ruby label. But when it came time to record a follow-up, the group decamped to New York to work with producer Chris Stein of Blondie and his new label, Animal. The results were 1982's stunning Miami, an album that didn't get its proper due back in the day. Blixa Sounds try to right that wrong on December 4, 2020 with deluxe reissues of the album in double-CD and double-vinyl editions.
Both the double-CD and double-vinyl editions will contain a digitally remastered version of the original 12-track album, as well as demos of every track. In addition, the CD version will contain a second disc jam-packed with a total of 18 previously unreleased demos, including 6 tracks exclusive to the CD release.
The double-vinyl version will be released as a two-LP set packaged in a gatefold cover with extensive liner notes by drummer Terry James Graham and journalist Craig Rosen, as well as rare photos and ephemera. The CD version is a two-disc set, also with liner notes, photos and ephemera.
While their own hometown of Los Angeles was lukewarm to The Gun Club, others, including Blondie guitarist Chris Stein, took notice. He signed the band to his fledging Animal imprint, awarded to him by Chrysalis Records for Blondie's huge commercial success.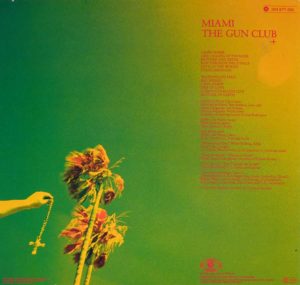 With the band relocated to New York, Stein produced Miami at Blank Tape Studios in June 1982, with Deborah Harry on hand to sing backup vocals, credited under the pseudonym D.H. Laurence Jr. In a sense, it was payback, because Pierce was more than a male groupie and West Coast head of the Blondie fan club. It was Jeffrey Lee who suggested that Blondie cover The Nerves' "Hanging on the Telephone," a highlight and British hit on the band's breakthrough album, 1978's Parallel Lines.
Despite the involvement of two members of Blondie, Miami was no pop-punk concoction, but rather a further exploration of the neo-swamp blues Pierce and company had mined on the acclaimed Fire of Love, though Stein's production made Pierce's toxic musical stew a little easier to swallow.
As was usually the case with The Gun Club, Miami found the band in a state of flux. Ritter split after recording the basic tracks. He's credited on the album below the band's then-current members, alongside Pierce's "additional piano" and Harry's pseudonym-credited backing vocals, and The Gun Club appears as a trio on in the cover photo, with Ritter missing in action.
"The band was really starting to split apart," Graham confirms in the documentary Ghost on the Highway: A Portrait of Jeffrey Lee Pierce and The Gun Club. "It was going to Jeff's head… Chris Stein, his friend, is producing the record and somebody is telling him, 'You don't need your band, all you need is you.'"
Whatever the case, Miami is a classic, from the opening "Carry Home" to the closer "Mother Earth," which Billy Idol said was key influence on his 1982 hit "White Wedding." In a TV interview, Pierce said, "I didn't see how he saw it similar in his head, really. It didn't make any sense to me, but I said, 'Fine, I guess if it inspired you to make that music, it's good.'"