Few musicians enjoy the enduring cultural presence of Johnny Cash, as edgy teenagers still wear T-shirts with the infamous picture of him flipping off the camera. He remains the perfect rebuttal to anyone who dismisses country music as objectively terrible based on the nonsense Go Country puts out — as exemplified by his 5-part series of albums, collectively called "American." "Unchained," released in 1996 as the second installment, exemplifies the longevity of Cash's southern gothic country music, connecting to the vanguard and foundation of music after decades' worth of contribution.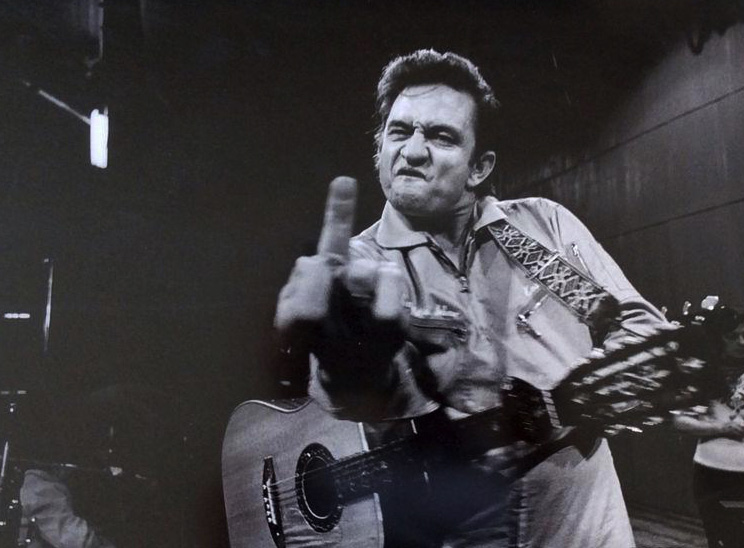 Potent melancholy
Blues and country music have a unique disposition in that singers can actually sound better with age. The deterioration of his vocal chords over time, if anything, adds character to his already gritty delivery. His steadfast drawls maintain momentum for the bouncy swing of "Mean Eyed Cat" and the straight ahead rock 'n' roll hoedown found in "Country Boy," along with allowing the morose ballad of "Meet Me in Heaven" to emotionally disarm the listener.
His voice blends into the tasteful twang of the instrumentals provided by Tom Petty and the Heartbreakers incredibly well, drawing no overt attention to itself as its potent melancholy maintains the envy of any modern country artist. The aforementioned tracks actually represent all of the songs on "Unchained" written by Cash. Covers of "Memories Are Made of These" and "Sea of Heartbreak" both survive as popular songs from the golden age of country western music as American folk music, and Cash's harkening back to these relics shows signs of his perspective and respect for the music he popularized.
Undeniably natural
Cash's decision to cover contemporary songs remains the biggest claim to fame for "Unchained." The significance of his choices has basis in his respect for his roots and what resulted from the influence his iconic persona and intuitive songwriting had on music in general. Indeed, no one expected a cover of "Rusty Cage" by Seattle grunge legends Soundgarden, but Cash's rendition of the song has become popular in its own right.
Punk-inspired heaviness might seem like a far cry from an old-timer banging on his guitar, but the way Soundgarden made sadness their rebellion harkens back to the romantic outlaw image Cash adopted almost 40 years prior. Although separated by time, culture, and style, Cash found common ground with '90s grunge rock. In a similar way, opening track "Rowboat," written by L.A. alt-rock luminary Beck, ends up fitting perfectly into Cash's lyrical and instrumental leanings. This instance where an icon of one era provides material for an icon of a bygone era to an undeniably natural effect speaks volumes of the universal power the ethos of '50s outlaw country as pioneered by Cash.
A well of human emotion
Although over half of the material on this record was written by other people, Cash's irreplaceable aura pervades in any backdrop it is given. "Spiritual," originally released by L.A. slowcore champions Spain the year before, has a less surprisingly successful outcome. However, the fact a song released so long after Cash made his initial waves became such a seamless addition to his 82nd record gives further proof that his style taps into a primeval well of human emotion that transcends time and space. The heartbreaking plea to Jesus for romantic fulfilment from a broken man actually tugs at the listener's heartstrings all the more with the singer's raggedly aged voice carrying the profoundly sad message.
Although 2002's "The Man Comes Around," the last album Cash released in his lifetime, would astound even further with a Nine Inch Nails cover, "Unchained" remains a beautiful testament of his respect for his heritage and love of his offspring.
By Maxwell Heilman.